Thanks to all of our fans, we have decided on a special offer to extend the streaming period of the archive of "THE 5th KYOTO ANIMATION THANKS EVENT KYOANI MUSIC FESTIVAL - Inspiration for the future"!
In this extension period, we will deliver a unique [Anime-Focused] version, in which you can fully enjoy the animation streamed behind the performers at the live stage.
Furthermore, the ticket sales period will also be extended for one week.
This animation was newly edited with all of our animation staff's spirits just for the event. So we hope everyone enjoys it and will be happy if you could feel our energy.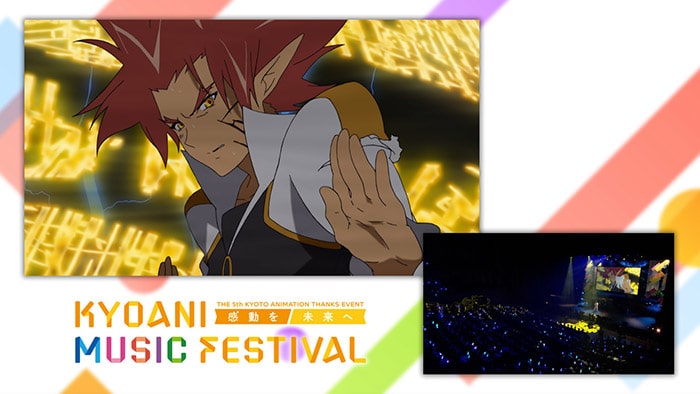 *Those who have already purchased the live streaming ticket can watch the archive with the same serial number and URL, so not necessary to buy a new ticket.
*The footage will be exchanged from [Regular version] to [Anime-focused version] from the start of the extension period. Neither streaming will be available for several hours during the exchange, so please be aware of each distribution period.
*Due to the extension of the distribution period, the streaming ticket sales period has also been extended.
Archive Streaming information
<DAY 1>
-Regular version (same footage as the live streaming)
2021/11/21(Sun)12:00PM JST ~ 12/4(Sat)11:59PM JST
-Anime-focused version
2021/12/5(Sun)5:00PM JST ~ 12/12(Sun)11:59PM JST
<DAY 2>
-Regular version (same footage as the live streaming)
2021/11/22(Sun)12:00PM JST ~ 12/5(Sat)11:59PM JST
-Anime-focused version
2021/12/6(Mon)5:00PM JST ~ 12/13(Mon)11:59PM JST
Live stream archive ticket sales period
<DAY 1>
Until 2021/12/12 Sun. 9:00PM JST
<DAY 2>
Until 2021/12/13 Mon. 9:00PM JST
Live stream archive ticket sales information
https://eplus.jp/kyoanifes/
For overseas residents
https://ib.eplus.jp/kyoanifes